Ashland Oregon Vehicle Transport & Towing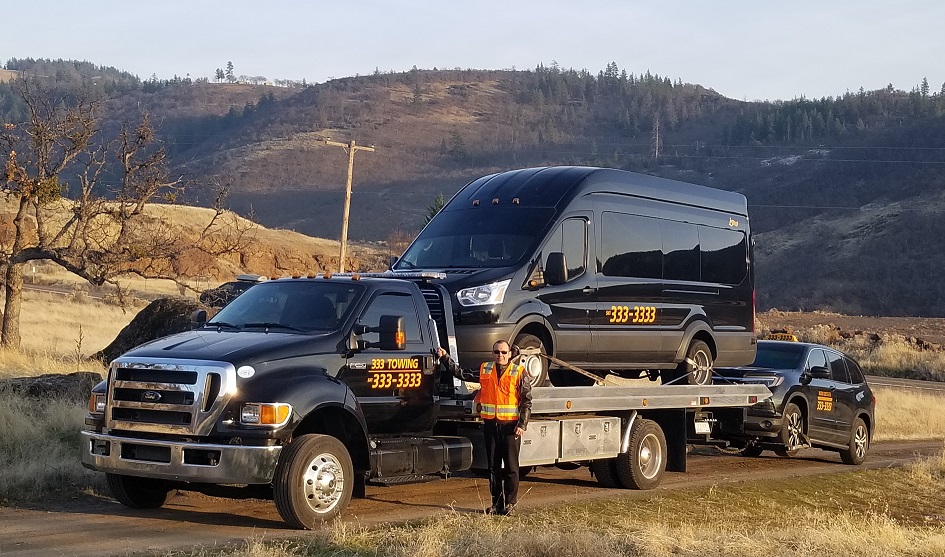 We specialize in flatbed towing and transport of a variety of vehicles including all wheel drive SUV's, truck, dualies, sports cars, transits, sprinters, goose-neck RV trailers and more! Extra wide deck, ramp extensions, low load angle and 8 point tie down system will insure damage free loading and transport to the most valuable vehicles that few other companies can guarantee.
Services we offer:
- state of the art two vehicle rollback and wheellift auto transport. Extra wide low angle rollback deck with eight point tie-downs! Safest transport for high end vehicles or any all wheel drive cars. It's a must!
- roadside towing and recovery service
- Vehicle and equipment transport (all make and model cars, trucks, SUV up to 12,000 pounds )
- Fifth wheel, goose-neck towing.
- Winching (vehicle stuck)
- Moving your vehicle to the body shop or your residence
- Flatbed transport and wheel lift services.
- Vehicle or equipment transport to and from Southern Oregon
- Gas or diesel fuel delivery
- Jump starts (dead car battery jump-start or battery re-charging)
- Emergency vehicle lockouts (we will unlock almost any vehicle makes and models)
Our equipment capacities:
GVWR (our maximum gross vehicle weight rating): 26,000 lbs
Aluminum deck size: extra wide - 102", length: 22' feet long
Deck capacity: 12,000 lbs.
GAWF (front gross axle weight rating): 12,000 pounds
GAWR (rear gross axle weight rating) 20,000 pounds
Wheel-lift Lift Capacity: 3500 lbs
Wheel-lift Tow Capacity: 10,000 lbs
Winch capacity: 8,000 lbs
Whether you were involved in an accident (freeway or within the city limits), mechanical breakdowns, flat tire, we are here to help!
Serving the Rogue Valley call us with your auto transport, towing, roadside assistance, jump start and auto transport needs.

Areas that we may service: Ashland Oregon, Medford, Talent, Phoenix, Hilt, Yreka California, Hornbrook, Colestin, Klamath Falls, Grants Pass, Brookings, Cave Junction, Crescent City, Etna, Weed, Mount Shasta, Mount Ashland, Interstate I5, Fort Jones, Happy Camp.